Welcome to Frederick Appraisal Services
Certified appraiser David Maloney, AOA CM (left) founded Frederick Appraisal Services in 1981 to provide valuation services of depreciable as well as appreciable personal property including antiques and collectibles. Dave specialize in assignments for casualty and moving damage claims as well as in appraisals for donation, estate, insurance, and litigation-related purposes.
Dave does not engage in buying or selling. He feels that having no financial interest in the property being appraised allows him to provide his clients with unbiased appraisal reports free of any conflicts of interest.
Dave also recognize the importance of reports that are written by appraisers who have been educated and trained in appraisal theory, principles and methodology, and who perform appraisal assignments in accordance with the performance and ethical standards of USPAP as promulgated by The Appraisal Foundation of Washington DC.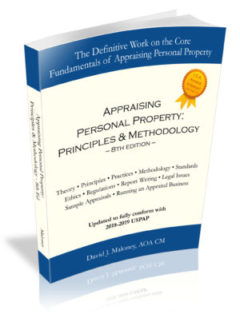 Dave is recognized as the sole independent author of "how-to" books and courses for the personal property appraiser. Both his highly-acclaimed Complete Online Course in Personal Property Appraising (featuring USPAP) as well as his unique, award-winning 708-page book Appraising Personal Property: Principles & Methodology -8th edition are written in plain-English, and each has the nationally-recognized and accepted Uniform Standards of Professional Appraisal Practice (USPAP) as promulgated by The Appraisal Foundation of Washington, DC at its core. His resources provide the novice as well as the experienced personal property appraiser with the tools needed to improve their appraisal knowledge and skills to the highest level possible.
Unlike real estate appraisers, there is no licensing requirements for personal property appraisers. Interview any prospective appraiser and make the effort to learn more about them and the quality of the services they provide. Here are some questions to ask when interviewing a prospective appraiser.